Update:
I was a bit doubtful whether turning this painting into color would be a good move, but I have to say now that it is finished I am glad that I did it. In the process, I changed a few minor things and took some artistic liberties, which I hope enhances the overall look. Here is the original reference, my black and white version, and the final colored piece. So what do you think? 
Original Reference Photo
Some close-up detail shots of the finished piece ~
The eyes are the gateway to the soul and I love painting them! If you look closely at the painting, you will notice that her right eye is much more detailed than her left one. This is done intentionally because one eye (usually the one closest to the viewer) should be the one that draws you in.
In my reference photo this little girl not only had an intense gaze, but also a bit of a frown. By ever so slightly moving the corners of the lips up, she becomes more approachable.
Update:
UNESCO's latest Global Monitoring Report has estimated that literacy rate in developing countries has increased from 68 percent to 77 percent between 1985 and 2004. This has brought the overall global average literacy rate to about 82 percent. Pakistan, however, is placed at the lowest rung of the international literacy ladder. The reason for Pakistan's dismal rating on yet another development indicator is due to the simple fact that the literacy ratio in Pakistan still hovers around 50 percent. Source: Interface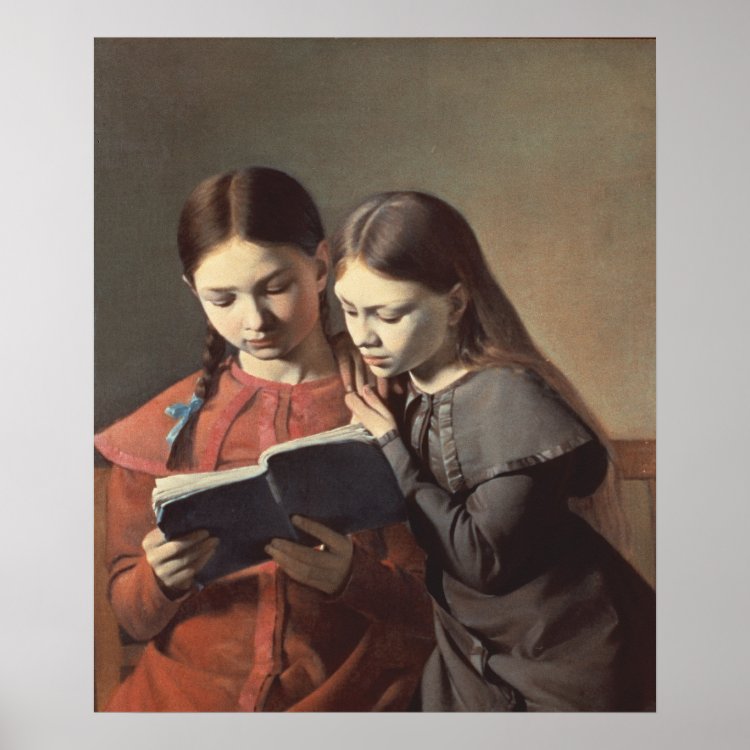 The Artist's Sisters Signe and Henriette
by bridgemanimages
I believe a healthy world begins when we take care of the educational needs of children no matter in which country they live in. An educated mind can make better choices in life than one that is fed with superstition and ignorance. This is why it is so important that children are given schools and teachers are given the means to feed these young minds with knowledge.
Atelier talk: Although I had told my client Sara's painting is finished and ready for pick up, I finally figured out what was bothering me and worked on that painting again. You know the saying an artist's painting is not done until the client calls it done and rips it away! Anyhow, I did work on the Pakistani girl as well and just wanted to post and update.
Update:
These washes of paint are being applied all over the black and white image to get an overall feel for what the color scheme will be. In contrast to the dark, rocky background the girls outfit is bright and cheerful. This will make her really pop out from the picture plane and help to show off her garment and all the details in her attire.
Update:
Since my Art A Fair summer show is fast approaching I have been working hard to not only complete commissions, but organize my body of work into a cohesive looking exhibit. To gauge public opinion, I recently asked friends who joined me on
to give me their opinion about changing some of my black and white paintings into color.Here is the 1st step of applying local color. Since in essence I already have an under painting in place, I am proceeding with a thin wash just to get the local colors in place. Once this is done I will refine the values and bring out some of the lost detail.
The original reference photo for this painting was taken by photojournalist Mr.
Ali Sadrpour, who also happens to be a dear friend and relative. I urge you to have a look at his web site Land Images. His work is awesome!
Pakistan and Iran not only share a border, but also cultural and religious views which are deeply-rooted in history. I still remember the village kids from Iran in their colorful outfits.
Three Cups of Tea: One Man's Mission to Promote Peace - One School at a Time
$12.42
By Greg Mortenson, David Oliver Relin
Mr. Greg Mortenson, author of 'Three Cups of Tea'  shared some of his traveling experiences through Pakistan during a speech I had attended. It reminded me of similar encounters when I would travel with my parent to little villages where the kids would run up to the car to greet us with big smiles. Sometimes, we would also encounter some who would be a bit shy, standing to the side, just checking out the "Farangi's" foreigners. You see my mom and brother were not only fair skinned but blond as well and I wonder what they thought of 70's style fashion. Bell bottom jeans, big bold flower prints and huge sunglasses. We must have looked like total aliens, now that I think of it :)
If you have not read "Three Cups of Tea" I urge you to do so. What a wonderful story written by a man with a huge heart!