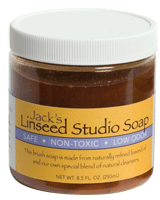 I try to wash out my brushes every evening, but sometimes I do forget. If a couple of days go by before returning to painting, this usually spells disaster. Once the paint dries on the brush, the shape and flexibility of the brush is seriously jeopardized and no matter how often you try to wash these brushes, out they neither look or feel like before.

Rainbows In Progress Paint Brush Photography Laptop Computer Sleeve
by time2see
In order to get some of these sad looking brushes a new life, I ordered Jack's Linseed Studio Soap and gave it a try. Just as the name implies this brush cleaning solution is made from naturally refined linseed oil, thus it's safe and non toxic and hardly smells. Best of all - it works!
First, I wash out my paint encrusted brushes with soap and warm water, taking care not to get the area between the ferule and brush handle wet. Once most of the paint is washed out, the brush is dipped into the Linseed oil and the bristles are given a good swirl in the palm of my hand. At this stage even more paint gets released. Once no more paint washes out a final warm water rinse is done to remove excess oil residue. This leaves the brushes clean and smooth to the touch and restores them to their former shape.

Fine Art Paint Color Box & Funny Artist Brush Poster
by _Angelique_
You can purchase it at