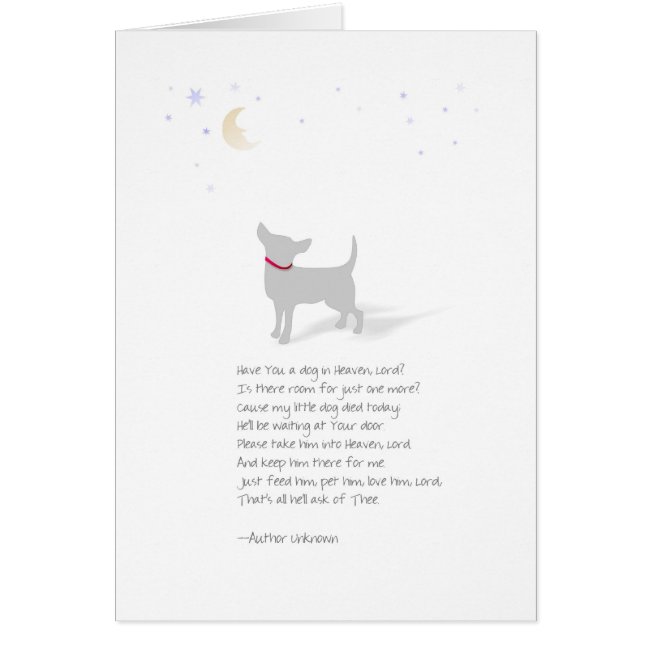 Dog Sympathy - Little Dog - Pet Loss Poem Greeting Card by DogSympathyCards

Losing one's pet has to be one of the most heart wrenching things we have to go through. I know it took me over a year to finally stop crying every time I either thought of my Yorkie or saw one that reminded me of him. 
I also have to admit that I still have his little cremated remains in a pretty little box in a drawer by my night stand. I know its weird, but I just can't put it in the ground. Maybe one day… My Benji passed away from kidney failure while we were visiting my daughter in San Francisco. Everything happened so fast that I was in total shock. My daughter took over for me and since she knew how much by little baby meant to me - darn it - I am tearing up again….
Sorry folks, I can't go there or I won't be able to finish writing this post. I wanted to tell you about Perfect Memorials and the lovely products they offer. 
If you have you lost a loved one and would like to create a lasting memory, Perfect Memorials has the perfect memorial product; keepsake jewelry, pet memorials, markers and comfort products. Unique memorial products from wearable jewelry to outdoor memorials. Many of the memorial products are uniquely crafted by skilled artisans representing the uniqueness of our loved ones.
Perfect Memorials is having a contest for a chance to win a Trail to My Heart Stainless Steel Cremation Necklace.
To win one of these keepsake pendants that holds a small portion of cremated remains, a lock of hair or dried ceremonial flowers, simply click the link below. These beautiful pendants where created and designed by a professional jeweler and can easily be worn or displayed making them a treasured memorial for years to come. Simply click the link below to enter to win one of these keepsakes.
Click here to enter the contest.
Since 2001 families have chosen Perfect Memorials for their unique memorial products. Year after year loyal customer and many referrals helped Perfect Memorials to grow to be one of the most well-known companies for memorial products. If you're looking to create a lasting memory, look to Perfect Memorials. With hundreds of products, free ground shipping and personalization available, Prefect Memorials is the perfect choice.
Grave Marker by Perfect Memorials