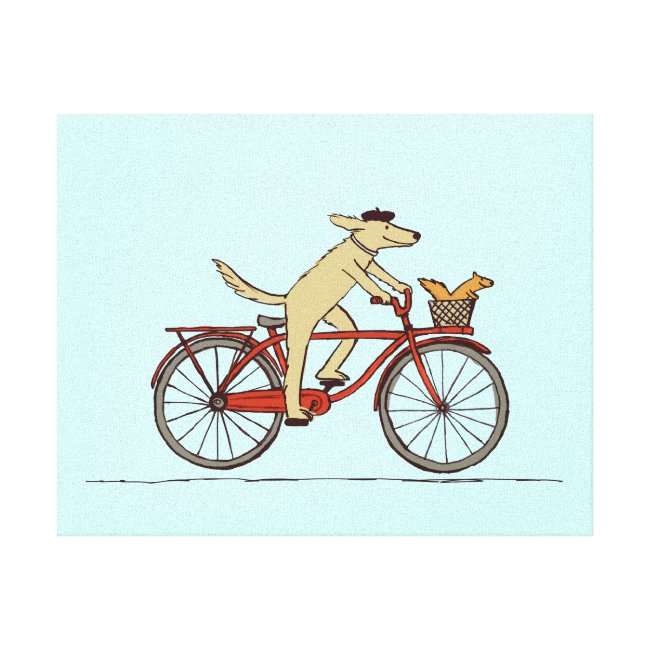 Cycling Dog with Squirrel Friend - Fun Animal Art Gallery Wrap Canvas by jennsdoodleworld
Find more Dog Canvas Prints at Zazzle
Do you ever wonder what pet products are liked by the majority of consumers? I belong to a group called Influensters where bloggers share their opinions about a variety of products and based on the amount of likes and positive comments a list of pet products emerged in 2014, that received high praise. 
Nutri-Vet 2 inch Self-Adhering Flexible Bandage for Pets, Blue 1 ea(pack of 2)
Nutri-Vet
When a pet gets injured it is difficult to keep bandages on and many reviewers loved the idea that the self-adhering flexible bandages were not only easy to put on, but most importantly stayed on. 
The bandages come in several colors and are great to put on after blood draws, or to cover up dressing for wounds. 
Ruffwear The Beacon, Red Currant
$15.75
$19.95
Ruffwear, Inc.
Pet safety is always a concern and this beacon was a favorite because it is water resistant and has an adjustable flash setting. Great for dark coated pets and those who are night crawlers, making them visible to on-coming traffic and better to spot when it is dark. 
Fromm Adult Gold Large Breed Formula Dry Dog Food
$50.17
Fromm
A holistic large breed dry dog food made with fresh Wisconsin duck, chicken, lamb, fish, whole eggs and cheese. Made by a family owned company this brand has been around since 1904 without ever having any food recalls.
Three Dog Bakery Assort"Mutt" Cookie Assortment, Peanut, Oatmeal Apple & Vanilla "Woof"er Cookies, Baked Dog Treats, 32 ounces
$9.68
Three Dog Bakery
An all natural dog treat that are oven baked and are a favorite with many dogs, due to the great taste. Pet owners reported that their dogs could not get enough of these tasty treats that are made with Peanut flavor, Oats and Apple Sauce and Vanilla Flavor. The cookies have no refined sugar or salt.
Doskocil Inc Ultra Kibble Keeper, 20lb Capacity 1.0 ea
Doskocil Inc
A clean and safe way to store pet food, this container received high marks for being roomy and easy to access. Pet owners liked that you could see the amount of pet food available through the clear plastic and that the top lid made access easy. The container comes in 3 sizes as well. 
I did not receive any compensation to list these items and just thought it might be interesting to read what others have recommended. Do you have a pet product that you think is the best thing ever? Please leave a comment and share~