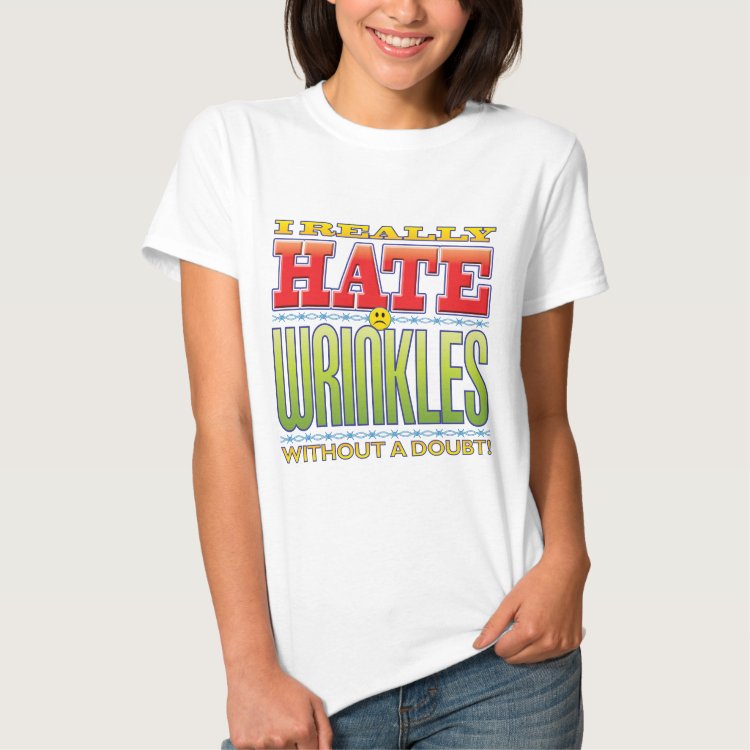 Wrinkles Hate Face Tshirts by TenebraeDesign

Dry skin makes us look aged and intensifies the appearance of wrinkles. Since I am not aiming for the California raisin look and want to keep the elasticity and my semi youthful look, it is important to take additional measures to keep my skin well hydrated. I thought today I share the many ways I hydrate my skin.
1. Minimize exposure to Depleting Elements
Low humidity, harsh winds, dry heat, high altitude, sun, alcohol, long baths and beauty products that strip your skin of natural oils, can all lead to dry skin. Minimize your exposure to them.
2. Exfoliate your skin with the right product
Every over the counter beauty product will give a different result based on your skin type. What works for one person will not necessarily work for you, that's why it is important to read labels and see what the ingredients are and to try out different products. Avoid scrubs that contain heavy chemicals, because they will make your dry skin worse. Exfoliate with scrubs that are all natural and mild and preferably designed for dry skin.
3. Use a Hydration Face Mask
A hydration mask aims to deliver moisture to skin cells and penetrate the upper skin layers. I have been using the Ultra Plumping Hydration Mask by Valentia, because it is made with natural ingredients (see product description). The key to a good hydration mask is to use natural ingredients that are not oil-based. Oil will clog up your pores and give you black heads and doesn't really hydrate either.
4. Moisturize
It is best to moisturize once in the morning and once at night. Use a light moisturizer during the day that can protect your skin from moisture loss and one at night which is heavier and more aimed for a restorative treatment while you sleep.
5. Go Easy on Make Up
When skin is dry it means that there is an in balance. While you are trying to hydrate your skin, avoid heavy make up and let your skin breathe and restore itself. 
6. Drink Water
There are many health benefits to drinking water. It refreshes, maintains energy levels, regulates body temperature, aids in digestion, etc. .  I recently learned that chugging down 8 glasses of water a day, does not hydrate skin the way I thought it does, because it goes through the intestines and gets absorbed by the bloodstream. Water hydrates our system but falls a bit short in hydrating skin cells. It does however aid in digestion and that in turn can effect how our skin responds to what we eat.
7. A study by the Experiments Dermatology lab in Germany revealed that foods rich in fatty acids, found in walnuts, flaxseed, salmon, and olive oil can help skin cells stay hydrated. If you suffer from dry skin or eczema consider flaxseed-, evening-primrose-, or borage-oil supplements. 
Sponsored
As I mentioned before I am trying out Valentia's Hydration Mask. The yellow gel like mask is surprisingly thin and feels more like a lotion than a mask. I apply it and let it sit for about 30 min before washing it off with a damp cloth. I have noticed a slight tightening of my skin right after I have washed it off. Not sure what is happening, but it's a pleasant feeling and I like to think that the mask is definitely doing it's job. My skin feels smooth after each use and after several uses looks much more hydrated than before. 
Product Discription
Ultra Plumping Hydration Mask By Valentia - With a Blend of Amino Acids and Botanical Hyaluronic Acid - 4 Oz
$23.99
$54.99
Ultra Plumping Hydration mask is a powerful 3 in 1 rejuvenation treatment that boats both rapid results and long lasting effects in erasing the signs of aging. In 30 minutes experience a totally new type of glow with our innovative formula of organic, natural ingredients which, one: flood skin cells with essential moisture, two: detox everyday cellular wear and tear, and three: increase collagen production, for totally nourished, firm, even­ toned skin.

● INTENSE HYDRATION: Moisture is absolutely essential to glowing, younger looking skin. Valentia's Ultra Pumping mask is formulated using natural ingredients that permeate profoundly, to moisturize on both a surface and cellular level and immediately rescue skin from dry dullness.

● COMBATS SIGNS OF AGING: Wrinkles, fine lines, dark spots and dryness are the most common manifestations of skin fatigue. Valentia Ultra Pumping Hydration Mask contains a miraculous Silk Protein Amino Acid blend, which increases the skin's production of collagen, the molecule that is fundamental in reducing fine lines and wrinkles. The Botanical Hyaluronic Acid, Vitamin E, and CoQ10 further improve elasticity for more taut skin and an even skin tone free from dark spots.

● NATURALLY NOURISHING INGREDIENTS: The highly concentrated Organic Rosehip Seed Oil is nature's most powerful tool to lock in moisture for a 24 hour glow. Combined with a unique blend of amino acids and potent antioxidants, like Japanese Green tea and Aloe Vera, to reduce fine lines, increase collagen production, and fight natural skin irritants.

● GLOWING RADIANCE: Valentia's exclusive ingredients are meticulously selected from the highest quality, organic, all natural, resources for their individual medicinal values and also for their powerful combined and cumulative effects together.

● ORGANIC SEA BUCKTHORN OIL: An anti­aging wonder berry that does it all: fewer fine lines, diminished sunspots, more even skin tone, and firmer, more supple skin. Organic Sea Buckthorn Oil is one of the main ingredients in Ultra Pumping Hydration Mask for it's unprecedented results.

● IN HOME SPA TREATMENT: Lifelong exposure to toxins and free radicals seems like a giant battle for your skin to conquer. Valentia offers an at home rescue opportunity to nourish delicate facial skin with nature's most restorative ingredients.

Valentia believes in the power of nature and therefore we proudly treat nature with the utmost respect and care. Inside every Valentia product you will find ingredients that are organic, natural, toxin and paraben ­free, made using sustainable energy, vegan friendly, animal cruelty free, and made in the USA.

Valentia experts have scientifically formulated products that are highly concentrated with only the most potent natural medicines, meaning a little goes a long way. In our firm conviction that everyone deserves self ­care and to have access to luxury skincare solutions, we always keep our products priced fairly.

Yellow Pansies Purple Vase Pansy Flowers Spa Bath Poster by Christine_Elizabeth